This article is more than 7 years old.
Bikes
Abandoned bikes get new life in Halifax
Here's what happens to bikes left attached to signposts over the winter
4 min read
As the weather gets warmer, bikes once buried under layers of snow and ice are starting to reveal themselves, rusted chains and all.
Why leave a bicycle locked to a signpost or fence in the winter? Who owns these abandoned bikes? What happens to the bike if the owner never claims them?
When a bike is discarded, its legal status lies somewhere between abandoned waste and lost property.
Each year, Halifax police recover numerous stolen or abandoned bikes, and hold them for a period of time ranging from 90 days to a year, allowing owners a chance to claim their bikes.
Const. Dianne Woodworth, spokesperson for the Halifax Regional Police, says these bikes are turned over to the police through many sources.
"Sometimes it is through HRM business units, local businesses and citizens calling the non-emergency numbers (311)," said Woodworth.
The city sends someone to pick up the bike. These bikes, unwanted on city property, are entered into the system based on detailed descriptions of the bike, including frame colour, wheels, size, and where it was found.
Once the bikes are processed, they are stored in two secure locations, one in Halifax and one in Dartmouth. The city holds them here for up to a year, and if left unclaimed, they are auctioned off.
Unlike Toronto's annual abandoned bike blitz, where the city goes around before winter picking up abandoned bikes, there is no specific season where bikes in Halifax are rounded up. Most removals are reactionary and complaint based, says Brendan Elliott, a spokesperson for the city.
"We would gather up bikes whenever the public lets us know there is one," said Elliott. "For instance, if a business owner saw a bike locked to a parking meter, and it had been there for a few weeks, then they would call 311 or police non-emergency number to let us know."
The Halifax Regional Police gets many calls each year from people looking for a stolen bike.
"We run a search on the system for the description of the bike or the location from which it was removed. If we can positively determine that the caller is the owner of the bike, we will make arrangements to return the bike to them," said Woodworth.
At the end of May, before the city's annual bike week, there is an auction for the abandoned bikes held at the Devonshire Arena in Halifax's north end. The funds from the auction are retained by the city, says Woodworth.
According to the city's data, provided by Woodworth, 29 out of the 245 bikes collected over the past two years have been returned to their owners, with the rest going to the auction each year.
"If a person goes to the auction and sees their bike, they can claim it if they can provide a police report number which has a description of the bike," said Woodworth.
This year, bike week will be held from June 3 to 12, and the auction will take place on May 30.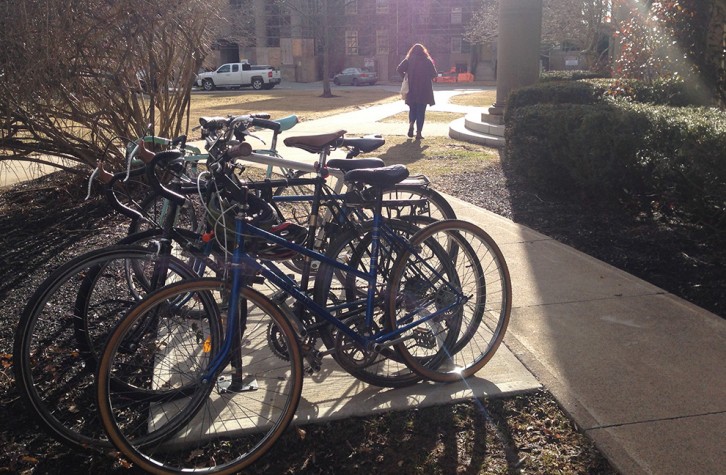 Rejected and remodelled
Sometimes abandoned bikes are found with nothing left but the frame, picked away by cyclists looking for extra parts to repurpose.
Alex Tremblay, co-founder of the Long Alley Bike Shop on Quinpool Road, says they started out by repurposing abandoned bikes. The shop sells used and repurposed bikes, and offers tune-up services.
"We like to call ourselves a bicycle adoption agency," said Tremblay, who also helps out with the city's bike auction through his volunteer work at Bike Again, a community bike shop that repurposes abandoned or donated bikes, as well as teaches people how to fix their own.
"We have access to new parts through retailers that supply them, but for years I was just collecting old bikes that people were throwing away and just stripped them of their parts so I could have parts to work with," said Tremblay, pointing at a derelict red bike he repurposed after someone found it in the garbage.
Occasionally, Tremblay will run across customers trying to pawn off or fix up bikes that have been stolen, and has had to deal with police because of it.
"It's a big bummer but also a steep learning curve," he said.
The store now takes note of customer's identification, writes down the serial number of the bike, and does a police record check on all the bikes that come in.
"It's sad to lose a bike, I don't want that to happen to anybody."