Hair
Black women gather to celebrate and discuss natural hair
Wendie W. Poitras studies how black women process and treat their hair
February 29, 2016, 9:41 pm ASTLast Updated: February 29, 2016, 10:09 pm
Wendie Wilson Poitras wants to know how women identify with their hair.
Poitras, an artist, community advocate and educator, understands it's not a simple answer ? particularly for African Canadian women.
"It goes beyond hair," she said on Friday. "It is about economics, segregation, accountability, politics and the social aspect of it."
Poitras co-organized an event at the Company House on Friday to hear what women think about their hair and build a body of research. The event was part of African Heritage Month.
After watching Good Hair, a documentary produced by Chris Rock that explores the different issues around African-American hair, Poitras and three other women kicked off a discussion.
One of the panellists, Folami Jones, said a black woman's experience with hair goes beyond issues of style.
"It has more do with an energy, connection and validation of our 'Africaness'," said Jones.
She says she believes that by using relaxers to straighten black women's hair "we are thinking of a solution to our identity as if whiteness is the rightness."
Hair relaxants are chemicals to change the natural hair texture into one that is straight and soft.
"Natural doesn't mean you should wear your hair curly or in an Afro," said Poitras. "It just means that you are not using chemicals to process your hair. I think that is healthier."
One of the people who attended the event, Amy Parsons, said every woman should wear her hair however she wants to make her feel beautiful.
"It takes a lot of women regardless of their racial background or age to truly have a sense of the social, cultural and political reasons behind why she wears her hair in the way she does," she said.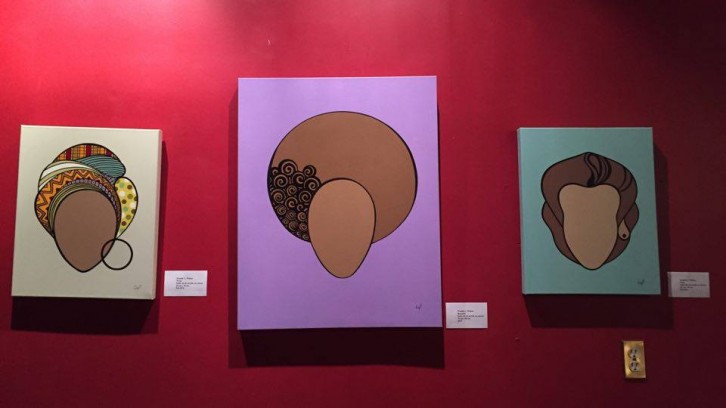 Poitras used her art as inspiration. On one of the walls of the Company House hung three of her art pieces showing faceless women.
"As black women we describe each other by our hair type and our skin colour," said Poitras.
"Even though these women are faceless, women would be able to identify just by skin tone and hairstyle."
The art piece on the far right is dedicated to Viola Desmond as Poitras tried to emulate her skin tone and hairstyle.
"Regardless of how she wore her hair, what she did was way bigger than that," said Poitras.
"She was a woman who had her own business at the time, and was interested in training other women so that they can be independent."
Preparing a report
Poitras gave out questionnaires to collect data on what people thought about their hair. Some of the questions were:
Do you like/love your hair? why or why not?
Do you use chemicals to process your hair? why or why not?
How do you identify: i.e. Black, African, biracial, multicultural, white…..
She said that the data would help her create a report to submit to the Office of African Nova Scotian Affairs.
"They supported this endeavour tonight, to continue this dialogue about hair and other things. It goes beyond," said Poitras.
She hopes the report will be a step towards tackling deeper social issues in the black community like work and employment.
Have a story idea? Let us know