Music
Body music: expression 'that's in our genes'
Percussionist and dancer Keith Terry teaches rhythmic patterns at Dalhousie workshop
January 25, 2016, 1:51 pm ASTLast Updated: January 26, 2016, 1:54 pm
The audience at Dalhousie University sits mesmerized as Keith Terry guides it through a series of slaps, claps and taps. Without using a single word, he teaches the rhythmic patterns that make up body music.
Terry's workshops create different layers of rhythms and sounds through extensive audience participation. He divides people into groups, and together they learn to create different types of body music.
Stomp, slap, clap, shuffle. Stomp, slap, clap, shuffle.
Terry sees body music as a traditional concept, and believes it is no coincidence that so many of his students grasp it so quickly.
"I think there's something in our humanness that remembers that this is an old form that's in our ancestors' genes," he says.
Jan. 22 marked the last event in a week of teaching for Terry in Halifax. The workshop was held at the Dalhousie Arts Centre, and was open to the public.
Originally from the U.S., this is Terry's third trip to Nova Scotia. He's toured all around the world as a percussionist and rhythm dancer. He says his week in Halifax, which included stops at high schools and several workshops at Dalhousie, could not have gone smoother.
"The students were very open and responsive. They were so present, and I really appreciated that about them. They were really engaged," he says.
One reason Terry loves teaching body music is how accessible it is to people.
"People see it and they think, 'I can do that,'" he says.
Music across cultures
Terry also discussed the history behind several body music techniques he uses, such as the ham bone, which came out the slave era in the United States. This technique involves clapping on thigh and chest muscles. Drums were taken away from slaves, so they adapted by making music with their bodies.
During the workshop, Terry performed three separate pieces in addition to teaching. His final performance was partially improvised and combined dance, body percussion and vocals.
He says performing and teaching these workshops in different countries is interesting, since he's never sure what the response will be.
"How people react and how much they react: are they talking to me?; are they interacting?; or are they sitting quietly and listening and responding at the end? All that really changes from culture to culture," he says.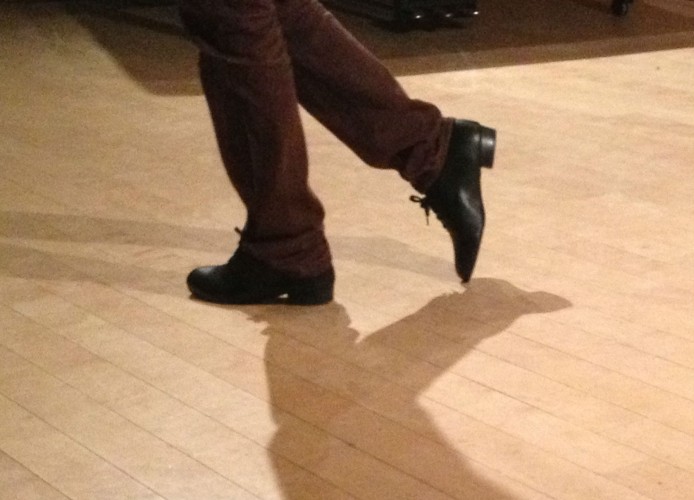 One thing Terry enjoys is collaborating with other artists. It is through this process he learns new techniques, and shares his own, while aiming to avoid appropriating other cultures.
Terry also enjoys an element of surprise in his workshops. He often plays videos of different cultures using their bodies as percussive instruments. A favourite of his is Ethiopian armpit music; his students have never guessed what they are actually hearing.
"The duration of notes and variety of pitches are like no pits they've ever heard before," he says.
Have a story idea? Let us know