Teachers
Citadel High students walk out to support teachers
Similar demonstrations held at other schools ahead of work-to-rule action by teachers
December 3, 2016, 8:00 am ASTLast Updated: December 3, 2016, 2:54 pm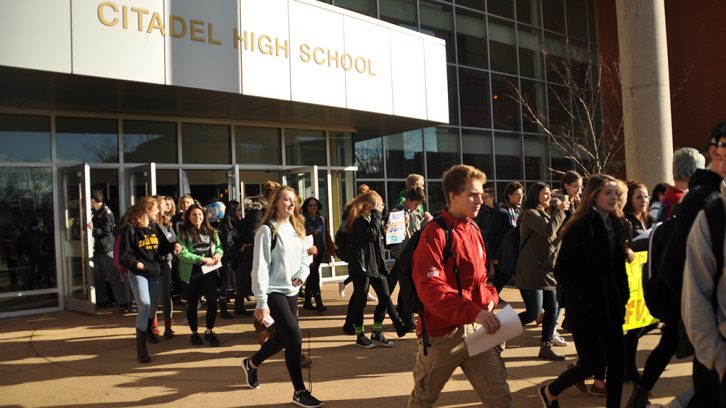 More than 250 students from Citadel High School marched to the legislature on Friday to support public school teachers in their contract dispute with the province.
Students left the school holding signs that read "Student4teachers," "They get cut; we bleed" and "Students deserve great teachers."
Sean Cody, a Grade 11 student, was one of the organizers of the afternoon walkout. He led chants of "one-two, three, four, we won't take it anymore; five, six, seven, eight, come on Steve negotiate" during the demonstration.
"I walked out because I love being able to have a good relationship with my teachers and realistically we won't be able to have that anymore," said Cody in an interview. "I also walked out because teachers almost lay down their lives to do these things for us."
On Monday, members of the Nova Scotia Teachers Union will follow a work-to-rule, which means they won't participate in extra-curricular activities, arrive early, or stay late after school. For example, teachers are not supposed to work after hours to write letters of reference for graduating students who are applying to universities or for scholarships.
Students at Citadel High usually go to classrooms for lunch or the cafeteria which is supervised by teachers, but if the work-to-rule starts they won't be able to.
"Everyone probably has to sit on the floor in front of their lockers and eat lunch," said Lindsay Munroe, another Grade 11 student.
Sophie Twohig, a Grade 11 student, said one of the issues with the current system is that classes are too big.
"We have a class with 39 people," she said. "Some of students need extra attention or extra notes, or some have learning disabilities, or need extra space to do their stuffs; it is really hard for teachers to help all students at once."
Some students say they have written to their MLAs, Education Minister Karen Casey and Premier Stephen McNeil.
"I personally feel like the government didn't really negotiate with the teachers' union and it was more a battle of power," said Cody. "I also felt like it was unjust for the government to tell the public everything the teachers were asking for."
Talks between the NSTU and the province broke off on Nov. 25. At the time, McNeil said the union's demands totalled nearly $500 million.
Parents and guardians were told about the walkout at Citadel High ahead of time and students who had permission were allowed to take part.
The demonstration at Citadel High was one of several held at schools around the province Friday.
Have a story idea? Let us know