Dairy farming
Dairy farmer concerned about TPP
November 9, 2015, 6:43 pm ASTLast Updated: November 18, 2015, 6:52 pm
Irma Langelaan walks through the door, dirt covering her up to the knees. As soon as she reaches the kitchen, she lifts a small bucket of fresh milk to pour herself a drink.
Dairy farming is gruelling work. And it's about to get harder.
When Canada became part of the Trans-Pacific Partnership (TPP), the Langelaans learned that dairy farmers would lose the quota system that had regulated their work for years. They would now have to compete in a global market.
Langelaan takes issue with this. And she is not alone.
Many dairy farmers across Canada were upset to learn they would have to compete with dairy imports.  They fear this unprecedented competition will significantly reduce their ability to sustain themselves while selling their products in Canada.
The federal government speculates that these imports will likely be much cheaper than local alternatives.
But cheaper doesn't always mean better.
"You don't know when things are coming into the country, by what standards—I don't think you'd ever know," she says. "But if you do buy local Canadian products, you do know we have high standards."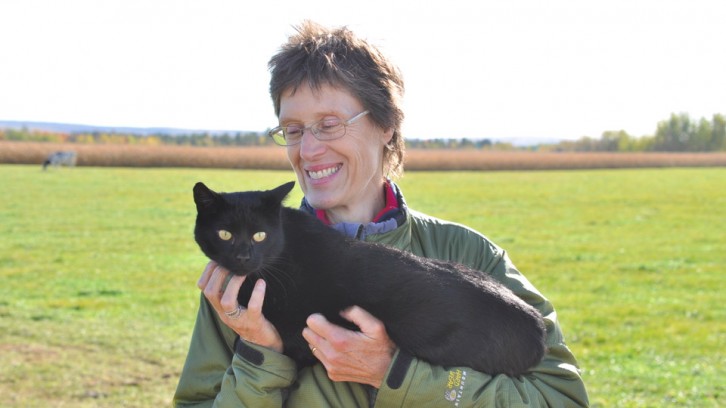 There is considerable debate over what standards should be used when importing food from countries like the United States. The industry says many American dairy farmers use growth hormones that would be illegal to use in Canada.
According to Langelaan, every Canadian dairy farmer must abide by the standards set out by Canadian Quality Milk, if they wish to ship their products. This includes having their farm evaluated every two years.
She believes our high standards of production are only one of the benefits of Canadian dairy. She also says that the importance many Canadians place on supporting local farmers is what makes food production in this country so admirable.
Langelaan is worried that if imported dairy products begin to saturate the Canadian market, it could ruin the relationship between the consumer and the farmer.
"I cannot understand this whole global market. It is nice in one way, sure. But it should be local first," says Langelaan.
The federal government has said the TPP will benefit Canadian farmers, offering access to new markets which weren't previously open to them.
John Munro, an associate partner at Ernest and Young, says some healthy competition will be good for the Canadian market.
"Dairy farmers have been subsidized and protected for years," says Munro. "It's time we took the barriers down and made them compete with the global markets."
Langelaan does not share the same optimism about the prospects of opportunities for dairy farmers.
She says that local dairy farmers are taking a hit so that some other sector in the economy will benefit. As for farmers like herself, she sees little gain.
"I'm sure the TPP was an agreement that has dairy and I don't know how many other things in it," says Langelaan.  "It's give and take to come to an agreement, and they just had to give [dairy] up."
For now, all she can do is look to the future.
"We're farmers, we've had good times and bad times and you just keep going," she says. "It's the only way to survive." 
Have a story idea? Let us know