Photo Essay
Dartmouth furniture workshop builds community
LakeCity Woodworkers provides hands-on experience for people with mental illness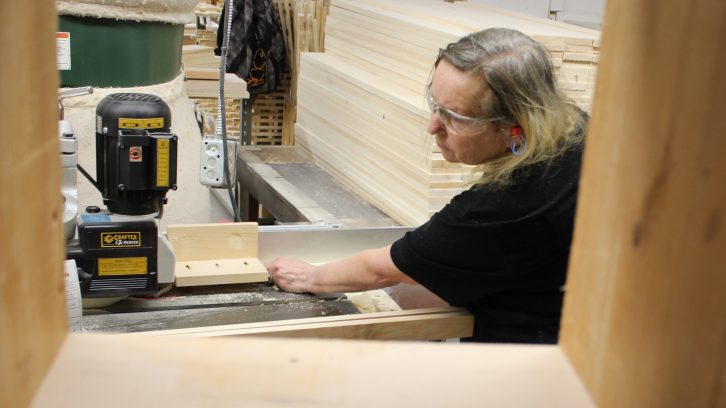 December 5, 2018, 8:15 am ASTLast Updated: December 5, 2018, 8:15 am
When Kim Shaw came to LakeCity Woodworkers nearly four years ago, she was at the point where she found it hard to leave the house.
Grappling with mental illness, Shaw had become isolated. Now, she said, she is surrounded by a community of people who understand.
"This place has been a lifeline for me," said Shaw.
Shaw is a client at LakeCity Woodworkers in Dartmouth. It's a venture of LakeCity Works, a Dartmouth non-profit that provides employment services for people with mental illness. Clients receive a stipend and are offered on-the-job training in a supportive atmosphere.
Shaw supervises a corner of the sprawling, busy workshop called Vinland Wine Racks, where she works with four others to make the racks and storage crates.
Five days a week, she gets on the bus and heads to the workshop on Windmill Road. When she arrives at 8 a.m., Shaw puts on a pot of coffee and turns the radio to Q104.
Shaw first arrived at LakeCity after it was suggested by her mental health worker. She said she values the way clients and staff treat each other.
"You're around folks where you can have a so-called bad mental health day and it's OK," said Shaw. "It's a place where everybody understands."
About 50 LakeCity clients are involved in woodworking projects, making furniture and other custom orders. LakeCity has other ventures, like computer refurbishing and recycling, with over 400 clients in the community accessing its programs and services.
On Monday, Lewis Williams was working with Shaw, drilling holes in long, thin pieces of softwood that will eventually become legs for wine racks.
Williams said he has been a LakeCity client for over 28 years.
He started out staining wood, but has been making wine racks for the past 14 years. Williams likes his job and said he doesn't mind the noise and bustle of the workshop.
"I like when it's busy; it's something good to do," he said.
Vinland makes wine racks in a variety of sizes, holding from 24 to 120 bottles of wine. They use softwood sourced in Nova Scotia. The finished products are sold as a kit at local retailers and online.
The income from LakeCity's projects is used to fund its programs and services, with sales exceeding $1.2 million in 2017.
Two hundred wine rack kits recently went out the door, said Shaw, and Vinland is on a tight schedule to restock before the holidays.
Muffy Price is one of two new job coaches. She supports clients at LakeCity, though she said many have been there for years and are self-sufficient.
Price said her job makes her feel like a "superstar" and she called LakeCity a big family.
"The kind of family that actually gets along," said Price with a laugh.
Along with supervising Vinland, Shaw is a go-between for clients and staff. She said between the physical work and helping fellow clients, it isn't always easy and she has days when she's tired.
However, she said, she appreciates how supportive the program is.
"The staff give you time to work through whatever's going on," said Shaw. "Nobody labels you."
Have a story idea? Let us know