Halifax-based team to represent the province at curling nationals
Team led by Mary-Anne Arsenault wins 7-4 at Nova Scotia Scotties tournament in Dartmouth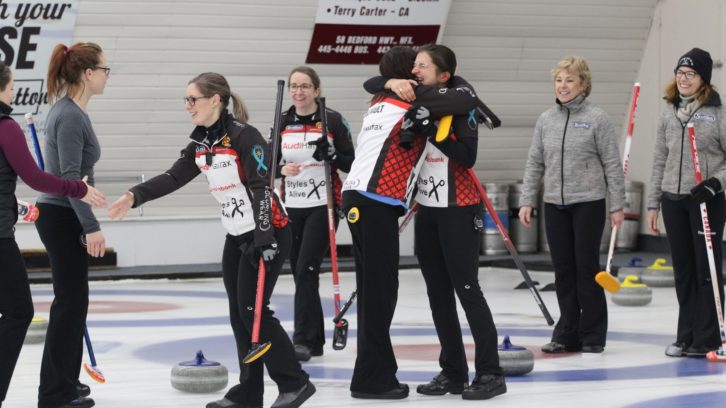 January 27, 2020, 11:45 am ASTLast Updated: January 27, 2020, 11:45 am
The championship game for the 2020 Nova Scotia Scotties Tournament of Hearts saw two of the province's heavy hitters battle it out at the Dartmouth Curling Club with the team led by Mary-Anne Arsenault coming out on top.
Going into Sunday's game, team Arsenault and the team lead by veteran curler Colleen Jones were both sitting at 6-1.
While Arsenault led the whole game, Jones did hit a stride by scoring in the sixth and seventh end making it 5-3. But ultimately Arsenault won in the tenth end with a final score of 7-4.
Arsenault is no stranger to the Nova Scotia curling championships. The skip has been on six winning championship teams since 2000.
Yet she said this year's win was a little sweeter.
Arsenault's niece Emma Logan is the team's lead, with Jennifer Baxter and Christina Black rounding out the team.
"I was trying to not be too excited for all of this," said Arsenault. "But it is my last Scotties in Nova Scotia and to play with my niece was amazing."
Arsenault's team will now be going on to represent Nova Scotia in the women's national tournament of the same name.
This marks the first year that the Scotties and the men's national curling championship, the Tim Hortons Brier, will be awarding equal prize money–$300,000– to the winners.
Last year the winning team at the Scotties earned $59,000 while the winning team at the Brier earned $100,500.
Arsenault said it felt great to be going to the first nationals where women will receive equal prize money.
The Scotties will run from Feb.15 to Feb. 23 in Moose Jaw, Sask.
Have a story idea? Let us know