Christmas
Halifax Christmas tree lighting marks beginning of holiday season
Hundreds of people watch the annual tree lighting at Grand Parade
November 27, 2016, 1:47 pm ASTLast Updated: November 28, 2016, 3:45 pm
This year's holiday season started with a bang at the annual Halifax Christmas tree lighting at Grand Parade on Saturday evening.
Grand Parade was filled with hundreds of people of all ages for the event that ran from 6:00 p.m. to 7:30 p.m. There was live entertainment from Tyler Key Band and the Octonauts, a children's TV show, followed by a visit from Santa Claus, the lighting of a 50-foot tree and a fireworks show.
The tree lighting is an annual event organized by the Halifax Regional Municipality. Mike Gillett, senior event co-ordinator with the HRM, said this year saw the biggest crowd yet.
"After Remembrance Day people are ready to celebrate and get into the holiday spirit," he said.
The HRM provided a big screen so that those who were in the back of the crowd could see the performers on stage.
Over 10 years ago, Andrea Jerrett and John Munro made it their tradition to come to the tree-lighting ceremony every year.
"It's kind of the beginning of Christmas," Munro said.
Jerrett echoed this sentiment.
"It's a nice way to celebrate Christmas that doesn't involve shopping or the more commercial aspects of Christmas," she said.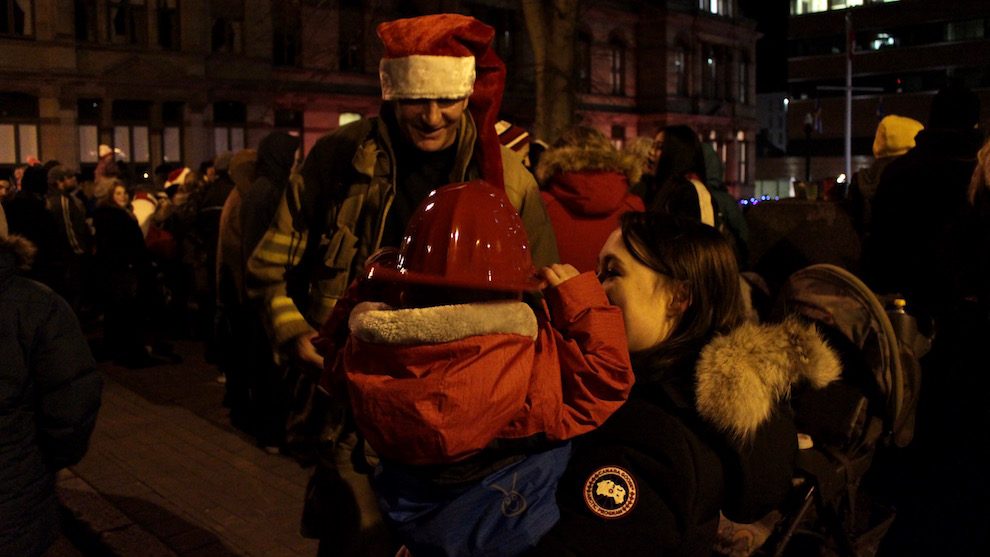 As a precaution, firefighters and police were on site. Dave Pace, a Halifax firefighter, had never been to a tree lighting in Halifax before.
"It's nice to see the people," he said.
Shortly after 7:00 p.m., the crowd got a visit from Santa Claus who sang 'Here Comes Santa Claus'.
City staff set off fireworks and lit the tree, which came from the South Shore. It will be lit 24 hours a day until Christmas.
The tree was decorated with over 6,000 red and white Christmas lights and 150 Canadian flags in celebration of Canada's upcoming 150th birthday.
The HRM is hosting another tree lighting event in Dartmouth next weekend.
Have a story idea? Let us know