Activism
Halifax demonstrators hold vigil for Kinder Morgan pipeline
Pipeline set to be approved in the coming weeks
November 23, 2016, 1:04 pm ASTLast Updated: November 23, 2016, 6:54 pm
In the damp and the cold, about 50 people gathered at Victoria Park in Halifax Monday evening to voice their opposition to the Kinder Morgan pipeline.
The pipeline has been contested since it was proposed in 2013 by the oil and gas company, Kinder Morgan. The $6.8-billion project, which is in its final stage of federal government approval, would carry diluted bitumen from the oil sands of Alberta to the coast of Burnaby, B.C.
Hannah Mills believes there is a lot at stake.
"It's not just an issue in B.C., it's an issue that Canadians across the country care about and we're watching," said Mills, a University of King's College student and one of the organizers of the Halifax vigil.
Demonstrators carried signs and candles. They formed into a giant circle and took turns talking about the pipeline project.
Many people spoke out in anger, with some saying they feel betrayed because the Justin Trudeau government hasn't stopped the project. People are worried about the effect increased oil sands production would have on climate change.
By 2030, Canada has pledged to reduce its carbon emissions down to 524 megatons, from 726 megatons in 2013. However, Environment Canada predicts emissions from oil sands production alone will increase from 62 megatons in 2013 to 116 megatons in 2030.
This would mean oil sands would go from contributing 8.5 per cent of Canada's total greenhouse gas emissions to 22 per cent in 2030.
Demonstrators said investing in further oil infrastructure was a mistake and harmful to Canada's overall environmental goals.
Margaret Stewart said she turned out for the vigil for the sake of her grandchildren "and to hold Trudeau's feet to the fire."
Other demonstrators were also critical of the prime minister, whom they saw as not keeping up with his environmental and Indigenous rights platforms.
"He has made promises to youth and to Indigenous people, and really to all Canadians, that he cares about reconciliation and he is a leader on climate," said Mills. "And his actions are really not different than the previous Harper government."
People were also there to show solidarity with other pipeline opposition movements. Annie Clair, who said she'd recently visited protesters at Standing Rock in North Dakota, described their treatment as "horrible." She urged continued unity between demonstrators across the country and in the U.S.
Mills also spoke against the Alton gas project in Nova Scotia, which has also been met with opposition.
On what she hopes to achieve, Mills is pragmatic.
"Ideally, seeing the public in opposition against this pipeline will lead him (Trudeau) to reject it," she said. "I'm not optimistic that that will happen, but it's showing that there is going to be a fight about it, even if it does go through."
Monday's candlelight vigil in Halifax was one of 48 held across the country, according to the 350 group, which co-ordinated the event.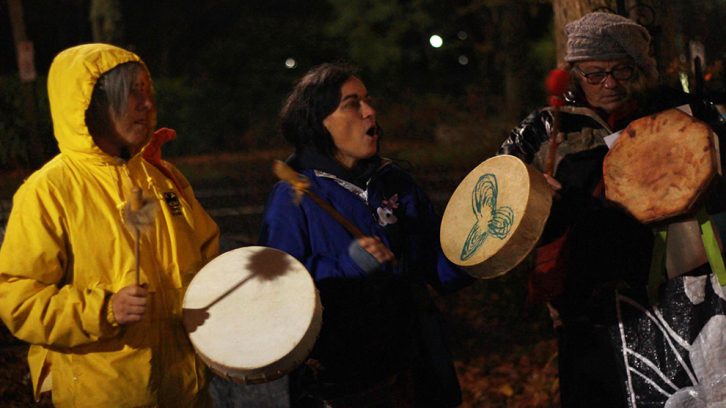 Have a story idea? Let us know