Parenting
Her mother's heritage
November 9, 2015, 1:54 pm ASTLast Updated: March 20, 2016, 11:54 am
A single white hand waves in the air in the basement of the Mi'kmaq Child Development Centre. The instructor of the parent support group points to her chin.  "And this?" she asks the class.
"Ntuape'kn," Renée Brown Munroe says, pronouncing each syllable: Nwa. Peh. Kun.
Renée is not Mi'kmaq, nor is she a Mi'kmaq parent. In fact, Renée has no immediate aboriginal relatives.
Renée is studying Mi'kmaq so she can pass it on to her granddaughter. At 54, she and her husband are raising four-year-old Marissa.  She is one-quarter Mi'kmaq and Renée wants her to grow up with a sense of pride in her heritage.
"White culture is everywhere. You get that by osmosis," she says, "but the Mi'kmaq culture has to be taught."
Renée and Robert took custody of Marissa after her mother died three years ago. Her father is Robert's son from a previous marriage. At the time, Marissa was living in foster care because both parents were unfit to take care of her.
While not biologically related, Renée is the closest thing to a mother Marissa has ever known, but she still calls her "Nana."
"If she chooses at some point to call me mom, I'm fine with that," Renée says, "but I will never replace her mother and I always want to let her know who her mother was."
Renée took Marissa to the Mi'kmaq Friendship Centre to foster her connection to her mother. But in teaching Marissa about her culture, Renée found something for herself too.
At her first parent support group meeting, Renée was uncharacteristically quiet. She was conscious of her own whiteness, going out of her way not to offend.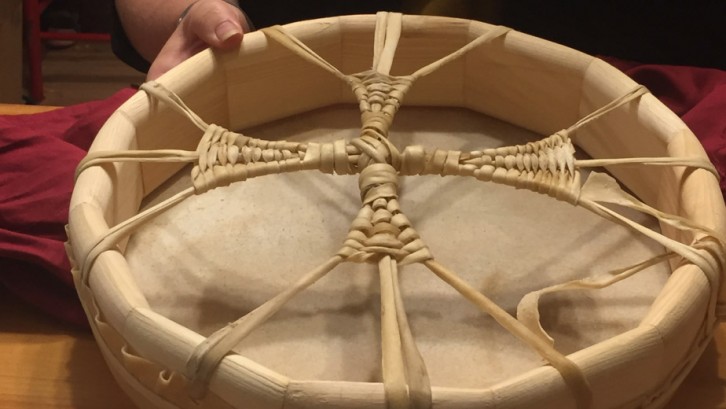 "I didn't want to step on anyone's toes," she says, "(or) take anything more than I deserve from them."
Aboriginal members of the group say the formality was unnecessary.
"If you're raising one of ours, you're one us," one parent, Bert Mitchell, assured her.
Eventually, Renée realized she was "The White One" because she made herself separate.
Each meeting starts with a drum circle, but for her first few months of attending, Renée just sat and listened. Then someone invited her to join. As her mallet hit the hide, something vibrated within her.
"The drum does something for me…I fill my cup, so to speak," says Renée.
When Renée drums to the Mi'kmaq Honour Song, there is nothing "white" about her. Her arm swinging fluidly, in sync with eight others, she is alive with the rhythm of the community.
In Mi'kmaq, the word nikmatut means, "that which is related." Its meaning transcends biological ties, encompassing the spiritual and cultural connections that give relationships dimension.
Renée and Marissa have found nikmatut in the community at the centre.
"I kept feeling that I wanted to be better," Renée says. "I want to be better for Marissa. I want to be better for myself. I want to be better to be worthy of these people who have taken me in. They're my family."
Have a story idea? Let us know