Install carbon monoxide detectors: Halifax Fire
Five people taken to hospital, apartment building evacuated this week
November 15, 2019, 2:50 pm ASTLast Updated: November 15, 2019, 2:50 pm
A suspected carbon monoxide leak at a Halifax apartment building has fire officials urging the public to be prepared.
Five people were taken to hospital on Tuesday and the entire building was evacuated. The next day, many windows in the building on Birches Drive were open.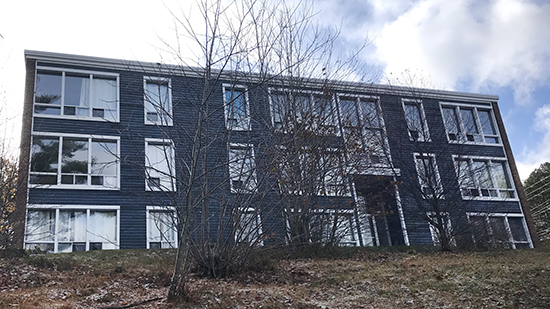 "We don't want to go to calls like these; we don't want people to have to go to the hospital," said Chris Camp, a fire prevention officer with Halifax Regional Fire.
"It's a much better system when people can figure out what's going on with their alarm system, and get us there in the very initial stages."
Carbon monoxide gas has no smell or taste. It can build up in any home with a device that involves combustion, like fireplaces and heaters.
According to Health Canada, carbon monoxide poisoning can have subtle symptoms — and harsh consequences. At low levels of exposure, symptoms can include headaches, dizziness and fatigue. At higher levels, it can be deadly.
It is not clear if the building had a carbon monoxide detector installed.
In an email, Brendan Elliott, a spokesperson for HRM, said someone called 911 from the apartment just after 4 p.m. Tuesday.
"The caller was hoping Halifax Regional Fire & Emergency (HRFE) could come to the residence to check the carbon monoxide levels because the caller and a roommate had been experiencing headaches and fatigue," he wrote.
Fire officials told the owner of the building to install carbon monoxide detectors on each floor, but it's unclear whether there were detectors in the building on Tuesday, Elliott added.
There is no requirement for carbon monoxide detectors or alarms under Nova Scotia's building code.
One resident of the Birches Drive apartment building says she feels uneasy being home after Tuesday's incident.
"Who knows how old the pipes are?" said Claire, who says she's lived there for just over two years. She didn't want her surname made public.
"So, it's a little scary wondering if they have completely up-to-date things on the building."
Peter Rouvalis, primary owner of the building, did not respond to multiple calls from The Signal.
In the last nine years, Halifax Regional Fire has been getting more calls about carbon monoxide.
Camp said this doesn't point to an increase of leaks. Instead, he said he believes it's because more people know about the dangers of carbon monoxide and its symptoms.
"I think we're seeing more calls because people are using alarms now, people are aware," he said.
Halifax Regional Fire has an alarmed and ready program. Anyone who cannot afford a carbon monoxide detector can call 311 to have fire crews install one in their home for free.
"We would hope those who have the means would purchase one," said Camp.
"I think if people spend a few dollars on an alarm, get themselves educated about what carbon monoxide is about, hopefully we won't have to go to calls like this someday."
Have a story idea? Let us know