Khyber revitalization plan called a 'win-win'
Khyber society unveils its plan for the historic property
January 15, 2016, 1:36 pm ASTLast Updated: January 15, 2016, 1:43 pm
If a society hoping to save the Khyber Building gets its way, the historic property at 1588 Barrington St. could become the arts hub of Halifax's dreams.
On Thursday, Jan. 14, members of the 1588 Barrington Building Preservation Society and the Friends of the Khyber held a public meeting to discuss their new proposal for the 128 year-old building.
The fully costed plan will include:
a new fourth floor with rooftop patio
an elevator
accessible and gender-neutral bathrooms
office and retail spaces
a new atrium that would be shared with the Khyber's newest partner, The Neptune Theatre School
All additions to the property are expected to cost less than the $4 million the city initially estimated the building would require in repairs.
"We want to create the ideal version of an arts hub for the city," said Emily Davidson, founding member of Friends of the Khyber.
With the help of the arts community, engineers, architects and real estate specialists, the 1588 Barrington Building Preservation Society spent most of 2015 drafting a proposal, which went to city staff in November.
The plan require the city to hold off on selling the property while the society runs a year-long capital campaign. After funds have been raised, the society plans to call on the city to sell the property to it for cheap. The society also intends to ask the city for a one-time capital contribution.
The 1588 Barrington Society calls this a "win-win" for Halifax; the building will be off the city's hands and the newly improved Khyber will foster cultural growth in the downtown core.
Keeping the past intact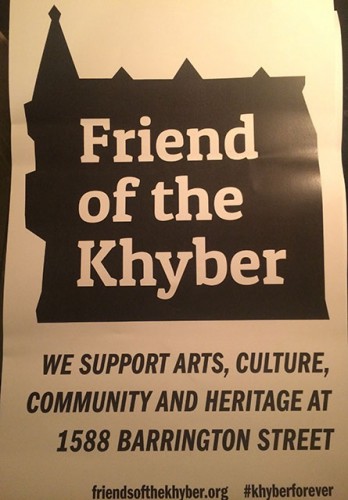 Joel Plaskett, Dartmouth barbershop-owner and longtime Friend of the Khyber, co-hosted the discussion on Thursday evening. He says the Khyber has the potential to "revitalize Barrington."
To Plaskett, what makes the Khyber work is its unique layout. He recalls his past in the building, in which bands would record upstairs, perform downstairs and collaborate with other artists working in the building.
"You're here because you've all felt that spark," he said to the crowd on Thursday night.
The new plan allows for the interior of the building to remain largely untouched.
"This is a once in a lifetime possibility," said Plaskett. "We believe this is really the window where we can save the building and get it back."
The plan will be before regional council either Jan. 26 or Feb 4. In the meantime, Plaskett asks residents to contact council to voice their support for the Khyber. A postering campaign is also in the works.
The Khyber Arts Society left the Barrington property at the beginning of 2014. For a full recap of events leading up to the present, check out the slideshow at the bottom of the page.
Have a story idea? Let us know