Archaeology
'More science' in museum's new dinosaur exhibit
"Imagine teeth as a big as bananas."
January 15, 2016, 10:21 pm ASTLast Updated: January 16, 2016, 10:45 am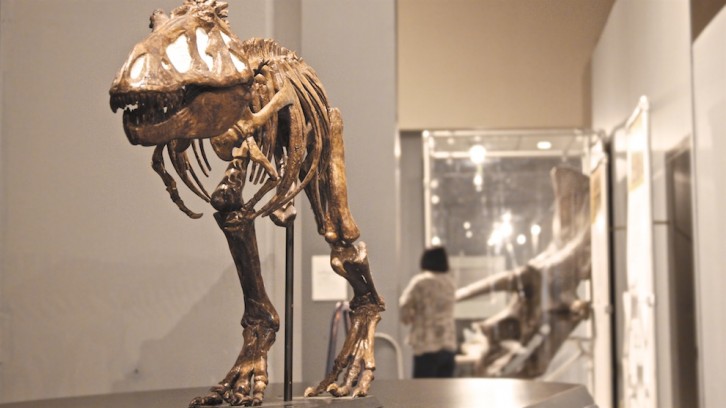 Look at that glass of water. Was that a… tremor? It must be thunder. No.. no.. something is definitely out there. Something big.
The Nova Scotia Museum of Natural History has brought dinosaurs back to Halifax.
On Saturday, the museum opens the travelling exhibit: Dinosaur Discoveries: Ancient Fossils, New Ideas. This is the Canadian debut of the interactive exhibit on loan from the American Museum of Natural History.
"Dinosaurs have captured our imaginations for millennia. That will never stop. How did they live? How did they move?" asks Deborah Skilliter, the geology curator for the museum. "How did these creatures go extinct? What can we learn from that extinction?"
Help from Hollywood
Skilliter worked behind the scenes to bring the exhibit to Halifax. Following the 'dino-hype' from last year's release of Jurassic World and The Good Dinosaur, she says it's a good time to showcase some of the real paleontological science behind the cinema.
"The public is intrigued by dinosaur movies and that helps to fuel the science," says Skilliter.
She hopes the exhibit can fill the holes left by Hollywood.
"Jurassic Park gave us a more modern and dynamic understanding of dinosaurs, but there are some discrepancies with the science," she says.
Dinosaur Discoveries shows the biomechanics of how dinosaurs lived their lives. Photos: Blake Prendergast
Skilliter says most Nova Scotians are surprised to learn about the local Jurassic history.
"A lot of people aren't aware that we had two different dinosaurs living here in Nova Scotia. They are Canada's oldest dinosaurs," she says.
Visitors will also be able to see an exhibit on a prosauropod found near Parrsboro, N.S., but the majority of the museum's displays are from recent finds in China.
[idealimageslider id="6198″]
Building on last year
Jeff Gray, a curator for the museum, says he wanted to build on last year's Dinosaurs Unearthed exhibit. He says more than 50,000 people came to see it.
"There is more science in this year's exhibit, more about the biomechanics of how dinosaurs operated and more about how they lived their lives," he says.
Gray says young visitors are always teaching him new facts.
"A kid asked me if I knew that a T-Rex's teeth are as big as bananas."
"Dinosaurs seem to make children into adults, because they know everything about dinosaurs — and it's shocking," says Gray. "But somehow they also seem to make adults back into kids."
Have a story idea? Let us know