Business
Preparing for a busy evening in Restaurants for Change fundraiser
'Community food centres growing their own food ties into eating healthy'
October 19, 2016, 5:24 pm ADTLast Updated: October 19, 2016, 5:24 pm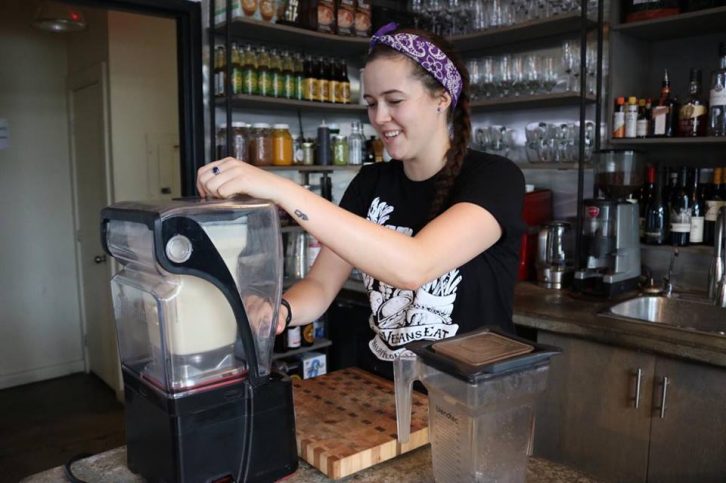 MacKenzie Hepditch, along with the rest of EnVie Vegan Kitchen's staff, rushes to prepare food for Wednesday evening's busier-than-usual dinner crowd.
"The biggest obstacle will be making sure we don't run out of food … it's 2 p.m. and we already have 16 reservations for tonight," she says.
EnVie, on Charles Street in Halifax, is participating in Restaurants for Change for the second year. The annual fundraising event happens every third Wednesday of October.
This year, 75 restaurants across Canada will donate all of their dinner service proceeds to local community food organizations that advocate healthier eating.
EnVie served more than 80 people during last year's fundraiser and they plan to donate their proceeds to the Dartmouth North Community Food Centre again this year.
Meg Norris, assistant front of house manager at EnVie, sits at a table in the restaurant putting together extra menus in anticipation of the evening's crowd. She says not only are there more menus but they're new, too.
"We just launched our brand new fall and winter menu yesterday, so that's what we're serving tonight."
Norris says she's a big fan of supporting local farmers and that's one of the goals behind Restaurants for Change.
"Local suppliers and community food centres growing their own food ties into eating healthy as well as sustainably," she says.
EnVie is owned by Diandra Phipps and Cory Urquhart. Recently, Norris visited the Dartmouth North Community Food Centre along with Phipps. She says she was "blown away" by the centre's efforts to make healthier eating more accessible.
"We got to check out their garden, see how they grow and harvest food and learn how to cook it. It's amazing all the information people can take home, and they even offer child care," she says.
Norris says as a vegan restaurant, EnVie partners well with the fundraiser because it tends to promote healthier eating – although there is an ice cream sandwich on the menu.
According to the Restaurants for Change website, four million Canadians struggle to afford and access healthy food every year.
In 2015 restaurants and sponsors across Canada raised $200,000 to support local food centres.
Chives Canadian Bistro on Barrington Street and The Canteen in Dartmouth are also participating in this year's fundraiser.
Have a story idea? Let us know