Street outreach program gets funding boost from Halifax regional council
City gives $60,000 to run Navigator Street Outreach for another year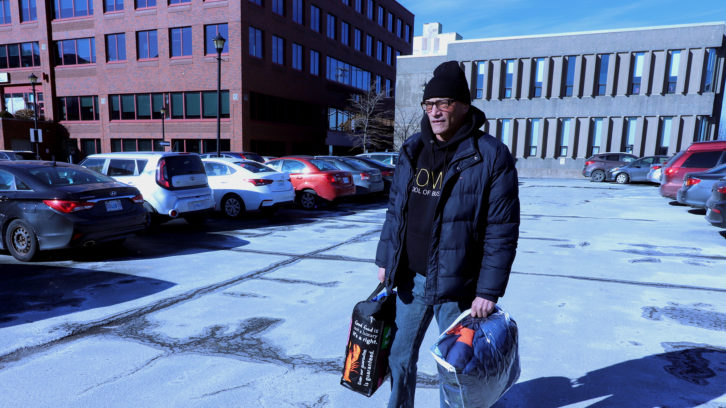 January 31, 2020, 5:12 pm ASTLast Updated: January 31, 2020, 5:27 pm
A street outreach pilot project in Halifax's North End and downtown Dartmouth is set to run for at least another year.
On Tuesday, Halifax regional council approved $60,000 of funding, allowing Navigator Street Outreach to continue operating until 2021.
The program isn't new to the city, as a branch has been operating in downtown Halifax since 2008. But the North End Halifax and Dartmouth branches have only been up and running since late 2018.
Shawn Parker, Navigator's sole outreach worker in both North End Halifax and Dartmouth, said he feels "blessed" to be able to continue the work for another year.
"I'm glad the city jumped aboard and see the need for this kind of program," Parker said in an interview inside the Halifax North Memorial Public Library.
The $60,000 in city funds will be paired with $19,000 from the North End Business Association and a $15,000 sponsorship from the Downtown Dartmouth Business Association.
Unlike shelters or soup kitchens, Parker operates on the streets, connecting at-risk people he meets with the help they need. This ranges from pitching in for late rent cheques, helping with grocery runs, or scanning job boards for the hundreds of men and women he's connected with, many of whom battle addictions or live with mental health issues.
On any morning, Parker could be dropping off sleeping bags to people without housing, sipping coffee with new friends in The Nook on Gottingen's coffee shop, or giving local businesses naloxone training.
"I'm the bridge between them and services," explained Parker.
A big part of those services is housing help. Parker said with Halifax's rental market pushing vacancy rates down to one per cent, a big part of his job is helping people find places to live.
Over the program's pilot term, he's connected with 800 people, helping connect more than 600 with rental opportunities, clothes for new jobs, or even just a free hot meal. It's a mandate that began with Navigator's original branch in downtown Halifax, founded by Eric Jonsson.
Navigator has the support of many within the Halifax business community too.
Letters from local MLAs,community organizations, and business associations peppered a staff report outlining why council should consider funding the program.
"Often, businesses are helpless when it comes to what they can do to help somebody," said Tim Rissesco, executive director of the Downtown Dartmouth Business Association. "Particularly when it's a situation where it might be a mental health issue."
Parker said advocating for people society often overlooks is a key part of Navigator's role — a role they can now play for at least another year.
"I see there's a need for a program like this," said Parker. "We are the advocate for the voices that are not being heard."
Have a story idea? Let us know