Theatre
Theatre sells costumes to fund upcoming production
'You don't want to see them get mouldy in someone's basement'
October 15, 2016, 5:49 pm ADTLast Updated: October 15, 2016, 5:52 pm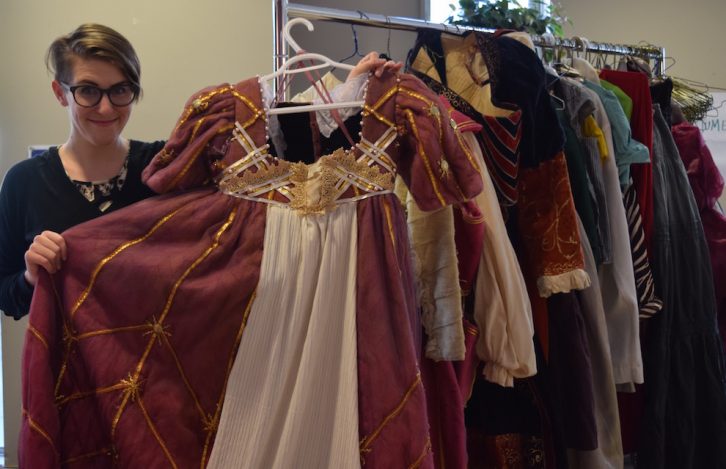 An array of clothing hangs on a coat rack, including an intricately designed gown and a blue tutu. Accessories are stacked on a nearby table.
"It's really cool," says Natalie Mike, as she browses the theatrical costumes on sale at Dalhousie University.
"It's a perfect opportunity to pick up a Halloween costume, which you'd never be able to afford otherwise."
The Villain's Theatre, a not-for-profit theatre company, hosted the costume sale Friday in the Student Union Building. To expand its storage space, Artistic Producer Colleen MacIsaac says the company decided to sell costumes that were no longer needed or too unique to reuse.
With prices ranging from $2 to $20, money raised from the sale will go towards the Halifax-based company's upcoming production of The Spanish Tragedy. An adaption of Thomas Kyd's Elizabethan play, The Spanish Tragedy will include an all-female cast.
"We are going to set them loose into the world and we figured Halloween is a great time let those go, so people that can use them for costumes," says MacIsaac.
The main goal of the sale, she says, is to "get really cool costumes into people's hands. I think that, ultimately, we just want these costumes to be used."
"When you have these really unique, fun costumes you don't want to see them get mouldy in someone's basement."
In addition to the sale, The Villain's Theatre will also host a Halloween party in collaboration with Good Robot Brewing Company on Oct. 31. The party, at the brewery on Robie Street, will feature an "off-the-wall" immersive performance piece, MacIsaac says.
The Villain's Theatre production of The Spanish Tragedy will run from Nov. 15 to Nov. 20 at the Bus Stop Theatre on Gottingen Street.
Have a story idea? Let us know