Weather
Winter storm blows into Halifax
Snow and forceful winds slam city
February 8, 2016, 11:05 pm ASTLast Updated: February 9, 2016, 10:33 pm
A powerful blizzard began pounding Halifax just as the evening commute started Monday. But many residents were already hunkered down.
Halifax schools, universities and businesses closed in anticipation of the storm.
All schools in the Halifax Regional School Board are closed today (Monday, Feb 8) due to the pending forecast. PleaseRT

— HRSB (@HRSB_Official) February 8, 2016
Around noon, the first flakes started to fall downtown and it escalated quickly.
Blizzard is definitely happening. Went from light to heavy snowfall and wind within a few minutes. Batten down the hatches, she's a blowin!

— Dale Willman (@TheLadyIsA_) February 8, 2016
Between the worsening weather and pre-emptive closures, the downtown area was eerily empty by the late afternoon.
[idealimageslider id="8438″]
The inclement weather affected Halifax Transit as well.
Routes 2, 4, 6, 18, 21, 22, 35, 72, 81 and 90 are on snow plan. Routes 2, 17 and 52 are detoured from the bottom of Main. #hfxtransit

— Halifax Transit (@hfxtransit) February 8, 2016
Satellite imaging showed the storm settling directly on top of Nova Scotia.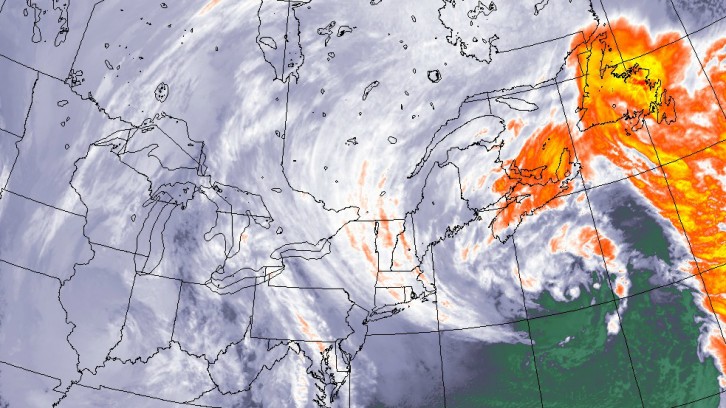 Many reported hearing thunder during the blizzard.
Thunder snow = the end of the world. #science

— Shawn Shearer (@thatshawn) February 8, 2016
Some closures will continue into tomorrow morning.
Municipal offices, customer service centres & @hfxrec facilities closed until noon Tuesday due to storm. Reassessing at 10:30am #hfxsnow

— hfxgov (@hfxgov) February 9, 2016
Have a story idea? Let us know