Art
Expect to be surprised Saturday night at Nocturne
'It's kind of exciting to see how an artist will reinterpret a space'
October 14, 2016, 1:50 pm ADTLast Updated: October 14, 2016, 1:50 pm
Dressed in all red and holding matching red headphones, artist Anna Sprague wanders through Seven Bays Bouldering on Gottingen Street, inviting spectators to listen and dance to the Sixties pop song "Crimson and Clover."
At the end of her performance she kisses each person on the cheek, leaving a red lipstick mark.
Sprague's performance was part of Thursday's opening night celebrations for Nocturne: Art at Night. More than 100 projects will be featured in this year's fall festival on Saturday night.
"It's just exciting," says Nocturne Chairperson Lindsay Ann Cory. "I can't wait for everyone to really see what happens on Saturday night."
Since 2008, Nocturne showcases works of art revolving around a specific theme. Interested in the spark that starts a thought, Curator Michael McCormack decided to centre this year's fall festival on the word "motive."
To demonstrate the song's lyrics,including the line "Crimson and clover, over and over," Sprague listened and danced to the song on a continuous loop throughout the night.
"It was very interesting," Don Burry, a graduate of NSCAD University, said of Sprague's performance. "We talked about it briefly before it began. She was looking at what is her motive to doing this?"
"That's something all artists look for. What is the motive that drives them to create and what is the motive that creates what they create?" adds Burry.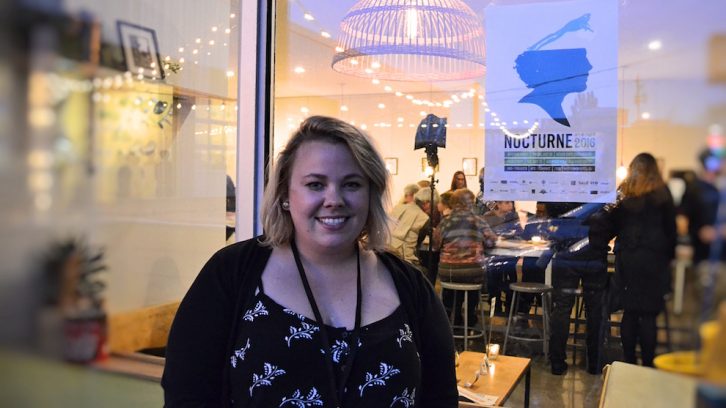 Cory says spectators can expect "to be surprised and stumble upon lots of things in strange places." Art installations will appear at numerous locations in Halifax and Dartmouth, including the waterfront Law Courts building and Halifax City Hall.
"It's kind of exciting to see how an artist will reinterpret a space," says Cory.
For Cory, the main role of Nocturne is to enliven the city and to engage members of the community.
"Maybe it's a city they haven't lived in very long or maybe it's a city they've lived in their whole lives. It's really about seeing it in a whole new light."
As for Burry, he says he likes the way "art becomes accessible to everybody and in a variety of locations."
Nocturne will be featured in downtown Halifax and Dartmouth on Saturday from 6 p.m. to midnight.
Have a story idea? Let us know