Courts
'I don't recall': key Crown witness in drug trial can't recall details
Cross-examination questions witness's memory at Craig Robert Burnett trial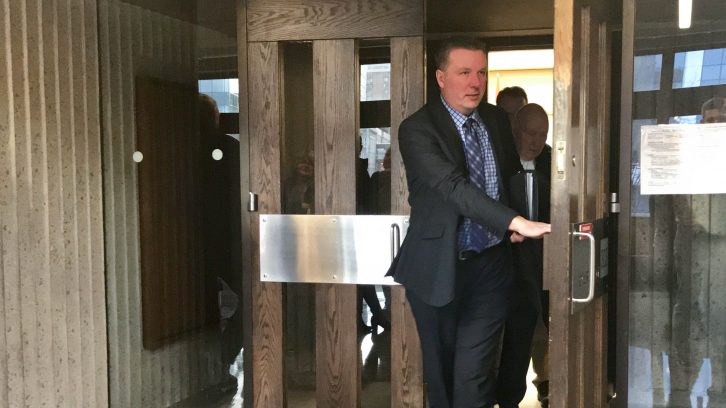 February 6, 2019, 10:13 pm ASTLast Updated: February 8, 2019, 4:56 pm
A key witnesses in a drug trafficking trial against a former Mountie can't remember how much money he made from the deal, a court heard Wednesday.
Scott Rowlings was cross-examined by Craig Robert Burnett's defence team in Nova Scotia Supreme Court, after telling Crown prosecutors Tuesday he and Burnett lied to cover up the 2010 deal.
Burnett, 51, is accused of stealing 10 kilograms of cocaine from an RCMP evidence locker. The former RCMP officer has pleaded not guilty to seven charges, including two breaches of trust, stealing cocaine with a value exceeding $5,000, trafficking a substance, transfer of property that was a result of an offence, obstructing a police officer by counselling a witness to lie and intent to mislead.
The Crown alleges Burnett gave the cocaine to Rowlings to hand off to a dealer. Rowlings told court he kept the cocaine in his home and the dealer, Mike Kanasevich, came by to weigh and pick it up.
Kanasevich came by for cocaine "six to 10" times, Rowlings told the court Wednesday, but said he couldn't remember the weight or value of each deal, only that they were worth "between $10,000 and $20,000."
When defence lawyer David J. Bright asked Rowlings how much money he made overall, Rowlings initially said $82,000, but quickly changed his estimate.
"I'm quite sure it was in the vicinity of $100,000," he said.
He said he "doesn't recall" when they first discussed the deal, but that all three parties involved –– Rowlings, Burnett and Kanasevich –– agreed they would split the profit three ways. Rowlings testified he discussed distribution of the cocaine with Burnett before it was stolen, but couldn't remember details of those conversations.
Bright asked Rowlings if there was an explanation, maybe a physical one, for recalling so little about such an important deal.
"The only explanation I can give is that I was under stress," he said.
The cross-examination of Rowlings will continue Thursday morning.
The judge-only trial is being heard by Supreme Court Justice James L. Chipman. It began on Jan. 21.
Have a story idea? Let us know