Remembrance Day
Spryfield honours its veterans on Remembrance Day
Hundreds gather at the Legion to remember the fallen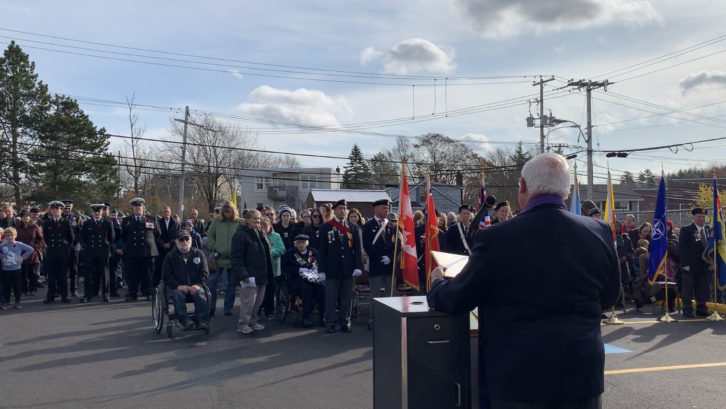 November 11, 2019, 4:58 pm ASTLast Updated: November 12, 2019, 11:12 am
For Paul Cormier, attending Spryfield's Remembrance Day ceremony was deeply personal for him.
Cormier, a retired veteran, was honoured at the ceremony by the attendees. But he was also there to honour others.
"Coming out and putting the medals on is important because some young people might come out and talk to you and ask you what your experiences were like, and that continues to instil that in the younger generation," he said.
Cormier served in the army for 35 years, and "worked his way up the ranks" to work as an army communicator. He was inspired by his father, who served in the navy for 30 years.
He said he left home in 1979, and this Remembrance Day was his first time home in 40 years.
"I'm happy to be home and sharing this moment with my family," he said. "It was really nice to be next to my mom and just having that moment with her."
More than 300 people attended the Remembrance Day ceremony at the Royal Canadian Legion Branch 152 in Spryfield.
Cormier was "shocked" by the number of people who attended the ceremony.
"It's heartwarming to come home and be exposed to this," he said.
Before the ceremony started, children ran around playing tag and hide-and-seek. The J.L. Ilsley high school football team, in their purple uniforms, handed out programs about the ceremony. The high school's band also filed in and took their seats, filling the air with their practice notes.
As the Dartmouth pipe and drum band entered, the crowd grew silent. The children returned to their families and stood alert at their sides.
One of those children was four-year-old Genesta Creemer. She attended her first Remembrance Day ceremony with her mother, Andrea LeBlanc, and her great-grandmother, Kathleen LeBlanc, who's from Spryfield. Kathleen attends the event every year.
Andrea said her daughter's curiosity surrounding Remembrance Day began this year.
"She actually is in preschool and she started making poppies this year, and she's been asking a lot of questions," she said. "So it's fitting that she actually sees it right to the end."
She plans to attend again next year with her daughter by her side.
"I think it's important to demonstrate and teach them the importance of what today symbolizes," she said.
Have a story idea? Let us know