Christmas
Victorian Christmas at the Halifax Citadel
27th annual Victorian Christmas includes new activities
November 27, 2016, 3:27 pm ASTLast Updated: November 28, 2016, 1:00 pm
On Saturday and Sunday, visitors celebrated a Victorian-style Christmas at the Halifax Citadel.
Activities included a children's parade with Father Christmas, a tailor's shop where where visitors tried on uniforms, carols played by the 36th Canadian Brigade Group Band, a theatrical performance and a photo booth with seven Victorian backgrounds to choose from.
There were also two new activities this year: a puppet making workshop and a trench that simulated the living conditions of Canadian soldiers in France during the First World War.
"Our society owes a lot to the Victorian period," said Hal Thompson, product development officer for visitor services. "A lot of our Christmas traditions date from that era."
Thompson is one of the curators who provided research for the event.
"It fits in with what we're trying to do here at the Citadel: bring history to life," said Jeff Lansing, communications officer.
One example of living history was Steve Mosher who was dressed as an artillery corporal. He fried pork over a wood fire in front of a cloth tent.
"I've got all the finest tools of the industry right here," he said, showing his cast-iron skillet.
Mosher represented the life of soldiers in the field, away from the Citadel. The tent, which was lower than his head, would have sheltered up to six men. The bit of pork would have been their Christmas feast.
Elsewhere in the Citadel, the surroundings were a bit more comfortable. In the craft room, Tanya Welton, a first-time visitor and Angela Zwicker, a repeat visitor, made Christmas tree angels.
"I'm enjoying it so far," said Welton. "Of all the ornaments on the tree, the angel was the one that popped up."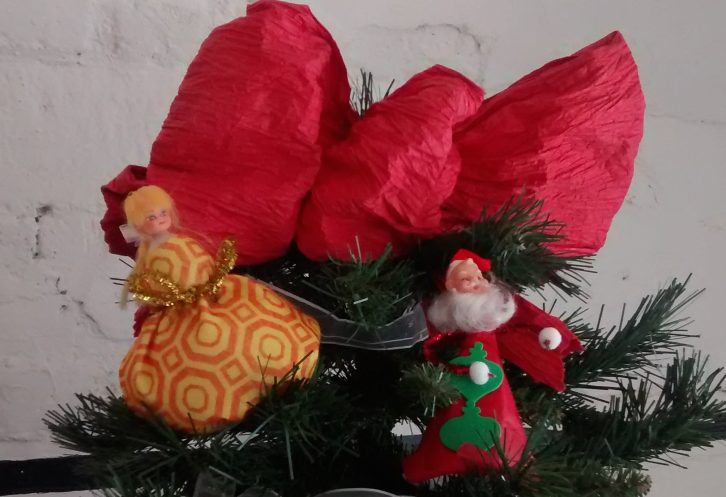 Later in the day, Father Christmas led children in a parade around the yard before settling in to hear gift requests and give out candy.
Meanwhile, in the First World War-era trench, a box of chocolate squares was the only evidence this was the holiday season.
Victorian Christmas is held each year at the Citadel towards the end of November. Admission is free with a non-perishable food donation to Feed Nova Scotia.
[idealimageslider slug="victorian-christmas"]
Have a story idea? Let us know