N.S. History
Author on residential schools: 'Canadians don't know'
Author Chris Benjamin spoke at SMU last night about his latest book on the Shubenacadie Residential School
October 16, 2015, 10:40 am ADTLast Updated: November 18, 2015, 3:33 pm
Halifax author Chris Benjamin says many survivors of the Shubenacadie Residential School believe Canadians still don't understand what they went through.
Speaking to a small crowd at Saint Mary's University last night, he said he was surprised by how much the survivors opened up to him in his interviews.
"Usually the response is, 'people need to know,'" he said. "I think that's sort of a mission that certain survivors have taken on, [because] they still feel Canadians don't know – and they don't – and they want to get their stories out there."
Benjamin was on a "university book tour," supporting his 2014 book, "Indian School Road: Legacies of the Shubenacadie Residential School."
The book took two years to write and research, and Benjamin said the most difficult part was getting his hands on background information that is sitting in archives.
He said a lot of the material in archives in still restricted, and most of the information about the school was given to the Truth and Reconciliation Commission of Canada, which is not willing to give it out either. When he tried to get church archives – for background about the nuns who ran the school – he also faced many obstacles, and in many cases a dead end.
But first-hand information was easier to come by. When it came to interviewing survivors, Benjamin said he was careful to find people who were not only comfortable discussing their experience, but who would also "illuminate certain aspects of the school."
"A tremendously important topic"
While there were only a handful of audience members present at Benjamin's talk, they were heavily engaged in the question and answer portion at the end of Benjamin's talk.
Mark, a member of the audience, thanked Benjamin for giving a space for "this type of dialogue," and helping him understand race better in Canada.
"This is a tremendously important topic and one that is more relevant now than ever," said Mark. "Hopefully this is a book that has wide public reach and provides people with the opportunity to start a discussion; one that's long overdue."
Benjamin hopes the book will not only inform more people about residential school history, but will also "help people understand the relationship between Aboriginal Canadians and other Canadians."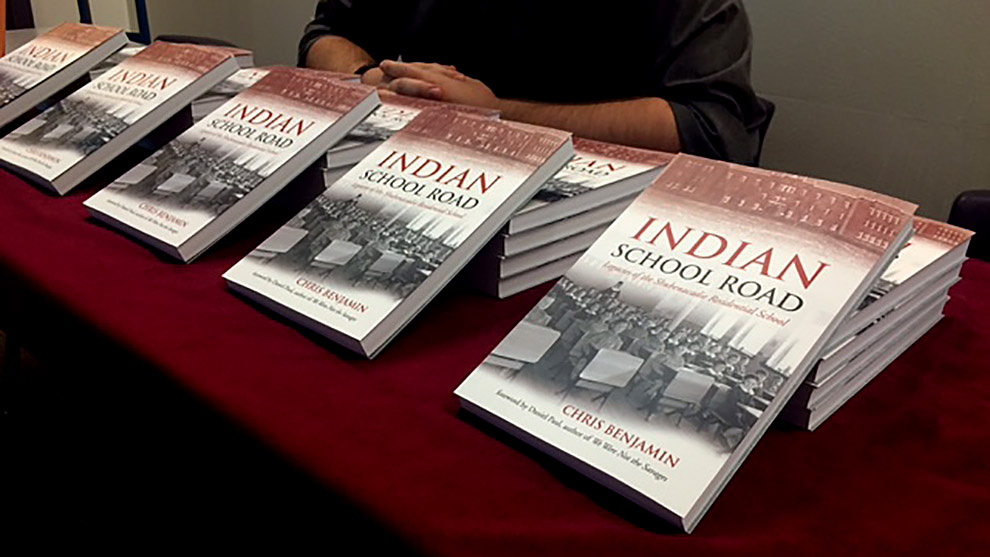 And while he is proud of the book, he knows that there is only more to found about the school in Schubenacadie.
"A lot of stuff has been purged over the years. There's a lot of missing pieces," he said. "Maybe in 10 years there'll be another book about this school."
His book won the 2013 Dave Greber Freelance Writers Award. The award is presented to a Canadian freelance writer that tackles social justice issues in nonfiction writing.
Have a story idea? Let us know