Nova Scotia's forestry future still uncertain
With Northern Pulp out of the picture, the silviculture industry is hoping to stay rooted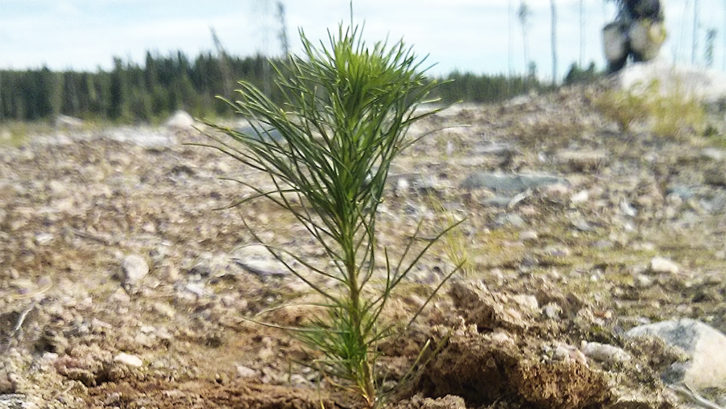 February 8, 2020, 3:04 pm ASTLast Updated: February 8, 2020, 3:04 pm
Forestry workers have spent the last two months with more questions than answers.
When Premier Stephen McNeil announced on Dec. 20 that the Northern Pulp mill would need to halt operations by Jan. 31, thousands of forestry sector jobs were left hanging in the balance.
The premier set up a transition team to help forestry workers and announced a $50-million transition fund to offset the financial burden the mill closure would inevitably cause.
The transition team included industry representatives and deputy ministers from the provincial government.
Greg Watson is one of the forestry sector's representatives. He is the manager of North Nova Forestry Owners Co-Op (NNFO). His company provides woodlot management and marketing services to around 340 landowners covering an area of about 30,000 hectares.
Watson said he's encouraged by what he's seen so far from the transition team.
"I think the government has done a good job of picking their top people to put on the team. So far, I'm very happy with their performance and what they've done and what they're trying to do," he said. "Being from the private sector, looking at their work ethic and their commitment has been very good."
Watson said identifying problems has been easy but finding solutions has been more difficult.
"I've been trying to create realistic expectations for myself and not get too overwhelmed, but I also realize that there's people that really need immediate help," said Watson.
Watson has been able to connect with affected communities by attending working groups to bring the community's interests back to the transition team.
Long-term growth
A major priority of the transition team is to advise on long-term approaches to forestry that ensure the province stays both competitive and sustainable in the sector.
In a media release on Feb. 4, the provincial government announced that half of the $7-million investment delegated to the forestry sector would be for the enhancement of the private woodland silviculture program.
Under the Forests Act, registered buyers like Northern Pulp must provide for silviculture treatments to offset the amount of resources they consume.
Silviculture operations supervisor Adam Scott said the $3.5 million will probably equal what Northern Pulp would have invested in provincial silviculture programs in the prior year.
Scott's forestry management firm, Scott and Stewart Forestry Consultants, offers management planning, specialized harvesting and a wide variety of silviculture treatments to woodlot owners in the Antigonish area.
Scott said the industry has been focused on sustainable forestry methods for years, with silviculture being one of them. More recently there's been a larger focus on the long-term impacts of pre-commercial thinning, leveling, and species selection.
"You're trying to make your best decisions based on the information you have now as to what things are going to look like down the road," he said. "Forestry is always planning ahead – it comes naturally when you're dealing with things with a lifespan longer than people."
Scott said he expects his silviculture business to hold steady next year. He plans to hire around 50 tree planters this season starting next week.
As for what's next in the industry, Scott said it's a challenge waiting for information to be handed down from the province.
The road ahead
"We've been doing ecological forestry at our company for a long time now, so the wheels are in motion for us," he said. "We're not clear cutting even in the current conditions. It's a lot more difficult because a lot of forest types we have are off-limits right now, so our options are limited."
Watson said that the woodlot owners he works with are committed to keeping their industry as sustainable as possible despite the hole Northern Pulp's departure will leave in the local market.
Watson said he's trying to remain optimistic while keeping realistic goals in mind.
"I guess there's a realization that we just can't help everybody in this situation and that's a bit difficult," he said. "But I just keep focusing on the priorities that we have at hand."
The province announced in the same Feb. 4 media release that forestry contractors and woodlot owners can apply for additional silviculture and roadwork starting Feb. 14.
Until then, Watson said he's going to remain focused on solutions.
"We're at where we're at, now how do we figure this out and help get this moving forward again," he said.
Have a story idea? Let us know